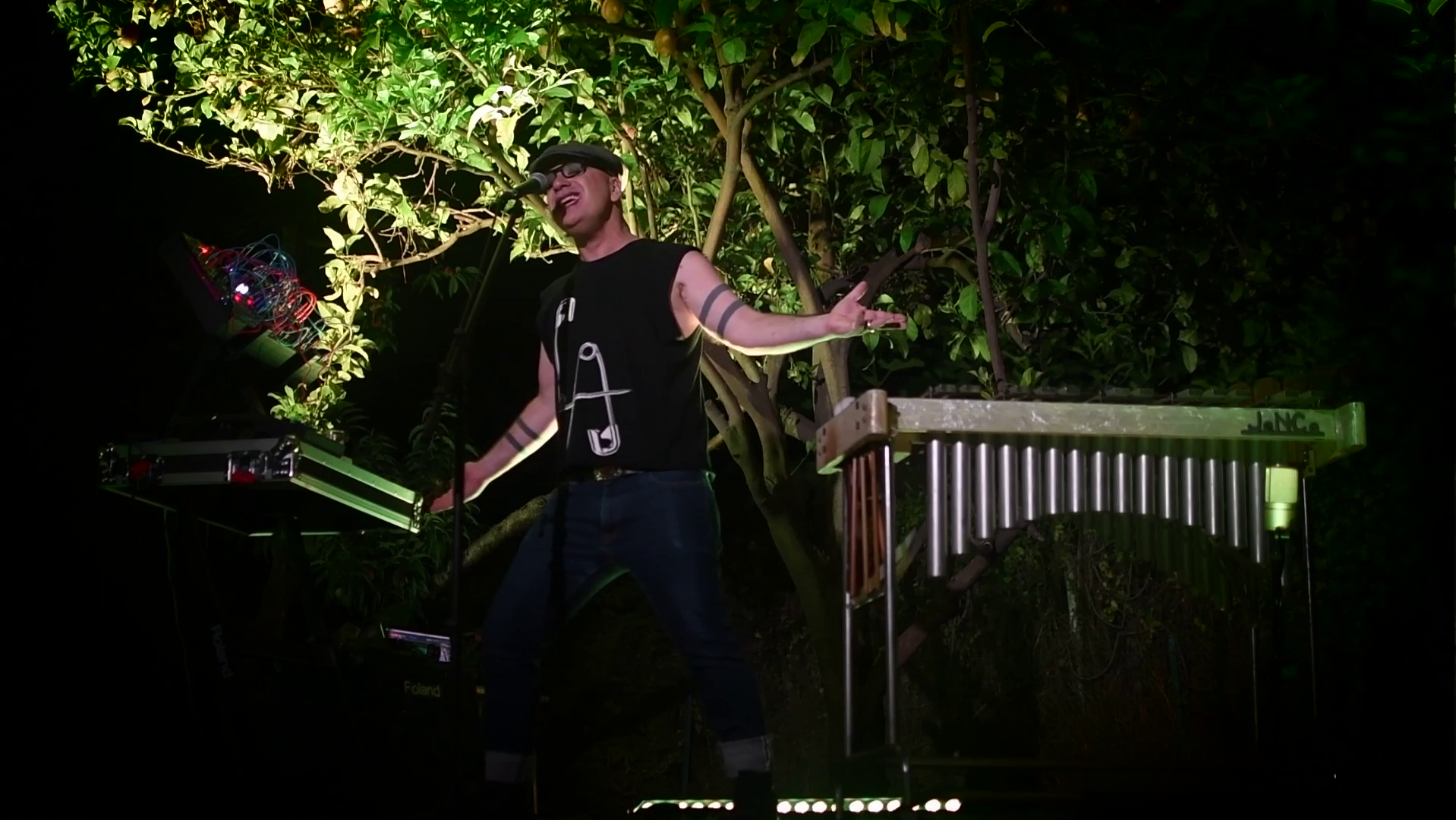 Bon Harris (songs: from the Lemon Tree)
Bon Harris is a founder member and principal music writer and synthesist in the group Nitzer Ebb.
Bon was born in Essex, England, and now lives in Los Angeles where he has continued a long musical career
that includes studio production, film and TV scoring, teaching synthesis and music composition, and creative
musical collaborations and performance.
In 2020 during the pandemic lockdown, Bon decided to use the time to return to singing - something he had not
been able to find time for since the 2005 release of his "Maven" project on which he sang lead vocals.
The new project began as a causal series of a capella social media clips filmed whilst walking around his garden,
amongst the citrus trees in Los Angeles.
The response to these simple posts was very positive, with people seeming to find some happiness and
relaxation in the songs, the singing and the tranquil garden and sunshine.
After many requests to perform complete songs, and to arrange them in Bon's unique and personal synthesizer
style - Bon decided to commit to a series of 4 mini concerts, each containing 4 songs of specially arranged cover
versions of songs that had a special significance for Bon during his early life and childhood - one song for each
month in the particularly hard year in 2020.
The songs were performed and filmed under one of the Lemon Trees in Bon's garden in Los Angeles, and the title
of the project was born:
songs: from the Lemon Tree.
The concerts were released on social media platforms and YouTube and were intended as a form a free
entertainment and encouragement for a population struggling with an unfamiliar and worrying new reality.
The concerts were intended as an an example of life, hope and optimism in a dark and uncertain time.
The response to the concerts was o verwhelmingly positive, with many viewers sharing in the sense of positivity
and reassurance that life could go on despite the challenging circumstances.
Bon received many requests for more filmed concerts, and requests to perform songs:from the Lemon Tree live
once the pandemic restrictions were lifted.
Fast forward to Spring 2022. Bon is about to hit the road in Europe performing live shows with NEP and finally
fulfilling the many requests to bring songs:from the Lemon Tree direct to live audiences through Europe and
beyond.
Bon is looking forward to this new opportunity, providing more outlets for his love of singing, performing and
creating electronic music for live audiences everywhere.