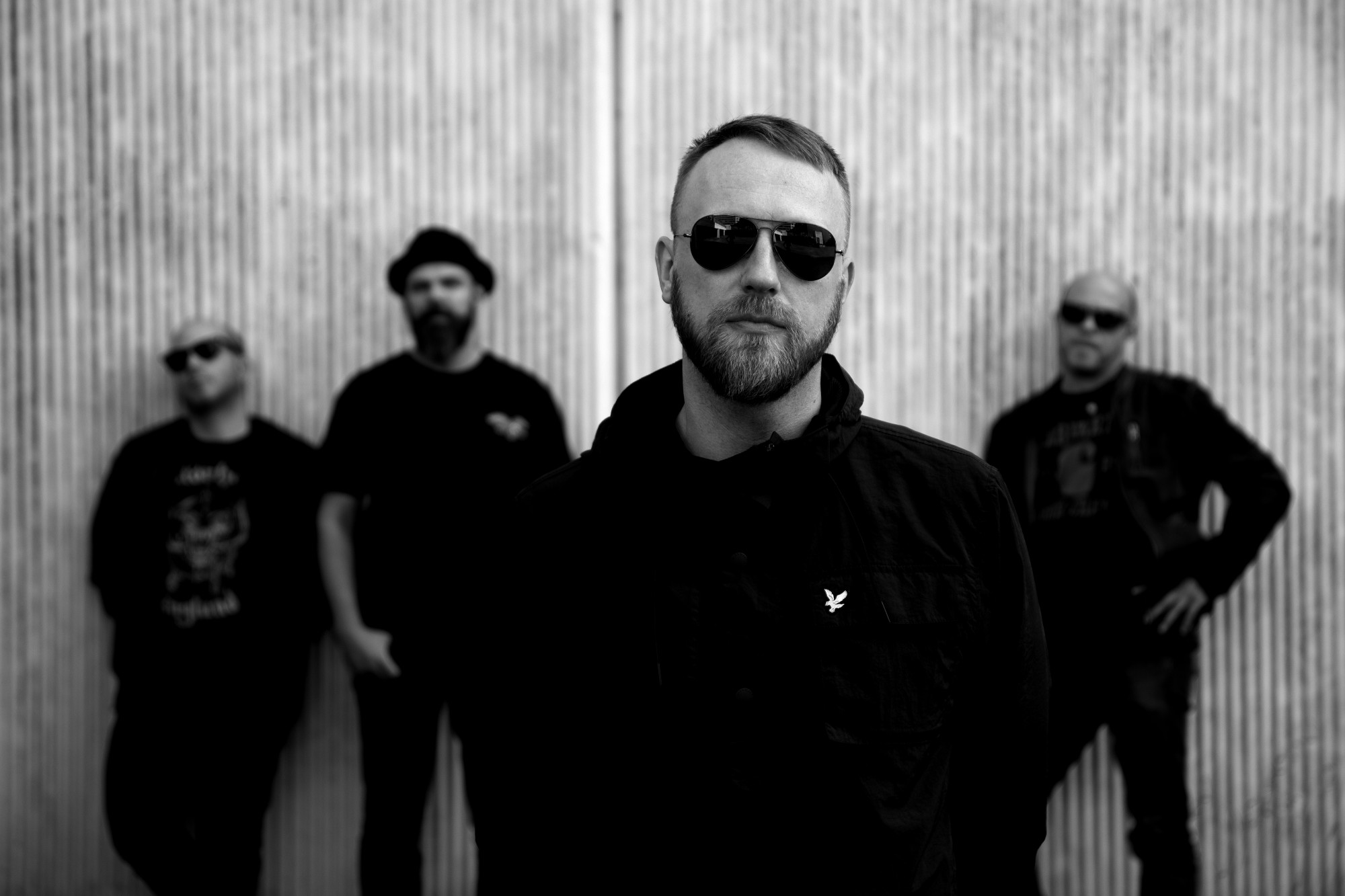 On The Floor
In depth, timeless and right on the mark On The Floor reappears with the new album
,,Breaking Away".
After ,,Made Of Scars" in 2017 and the beloved and by critics and scene acclaimed
,,Lifetime" with its entry into the German Alternative Charts (2018), singer Helge Jungmann
and band surpass themselves in the third year of their musical reincarnation.
Darkwave und Post-Punk conjoin in 11 intensive songs to a highly addictive album. Modern
electronics meet darkest rock. Hypnotic guitar melodies lead through human fragility
(,,Breaking Away") and to huge anthems (,,Chain").
Helge Jungmann is dissecting human and emotional abyss dominently and expressive -
accompanied by some familiar faces from the darkscene.
Tom Lücke (Girls Under Glass/Calling Dead Red Roses) perpetuates his guest vocals first
time on a released track after 25 years and leaves his mark on ,,Walking Through Walls" with
his distinctive and powerful voice.
Johan Sjöblom (The Exploding Boy/SJÖBLOM) ennobles the great ,,The Way It Hurts" with
his memorable and weightless voice to an apocalyptic duet.
Singer Helge Jungmann, guitarists André Lindner und Henning Thurow and bassist Dennis
Lindner are deep-rooted in the German underground-scene since decades. Gigs with
Catastrophe Ballet, Girls Under Glass, Clan of Xymox, Phillip Boa & the Voodooclub, She
Past Away or at the Wave Gotik Treffen brought a base of devoted fans.
The result reflects the experience of the band. With playful easiness ,,Breaking Away" hits the
spirit of the times and is tempting with magnificent melodies to a musical journey through
catharsis and revolt, love and transitioriness.

Pain will never sound better.

Line up:
Helge Jungmann: Vocals
André Lindner: Guitars
Henning Thurow: Guitars
Dennis Lindner: Bass

Discography:
"Made Of Scars" 2017
"Lifetime" 2018
"Breaking Away" 2019
20 Years clone your lover @ Markthalle
Liebe Zeromancer Fans! (english version below)

Leider müssen wir ein weiteres Mal die ,,20 Years Clone Your Lover" Show verschieben.

Aufgrund der behördlichen Auflagen bis zum 31. Oktober 2020 keine regulären Shows stattfinden zu lassen und der Tatsache, dass wir es nicht riskieren wollen einen weiteren Termin in 2020 verschieben zu müssen, sehen wir keine andere Möglichkeit als die Show in 2021 zu verlegen.

Aller guten Dinge sind drei, so hoffen wir und starten einen neuen Versuch diese Show am 10. April 2021 in der Hamburger Markthalle zu veranstalten.

Alle Tickets behalten ihre Gültigkeit.

Danke für euer Verständnis und bleibt gesund!

Dear Manceros!

Unfortunately, we are forced to move the ,,20 Years Clone Your Lover" show once again.

Due to healthy regulations & restrictions by the authorities, no regular shows can take place in Germany until the end of October 2020. Since we don't want to risk another postponing this year, we don't see any other solution than moving the show to next year.

3rd time lucky we hope and start a new attempt to host this event on April 10th, 2021 at the Markthalle in Hamburg.

All tickets will remain valid.

Thank you very much for your understanding and stay safe!
20:00 o'clock