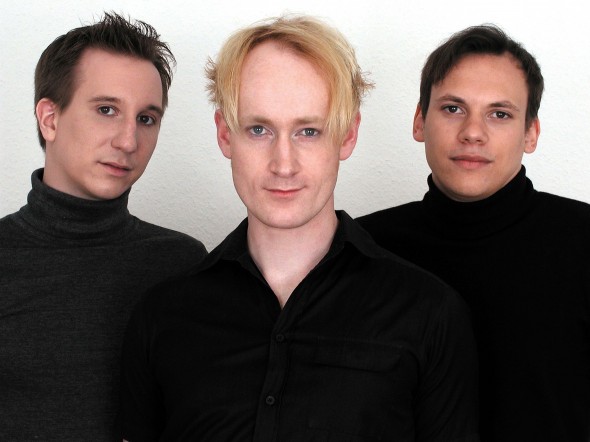 Steril
Founded in Oldenburg in 1989, "Steril" can now look back on 30 years of band history. Seven albums have been released during this time. Their music is extremely multifaceted and is characterized by a mixture of electro, EBM and industrial, paired with also ambient, dance and hip-hop elements.
Songs like "No remission", "Crash your head", "Lies" and "Glas" have become club classics worldwide. "Steril" has toured all over Europe with bands like "Covenant" and "Haujobb" and has played as opening act for scene sizes like "Front 242" and "Front Line Assembly".

In September 2019, Frankahdafi Rec. released their latest work with the limited double album "Empiricism". It has been digitally released 01 April 2020.

Line up:
Mähne Meenen: Vocals
Axel Tasler: Guitars, Programming
Jan Wilking: Keyboards, Programming

Discography:
"Transmission Pervous" 1993
"Egoism" 1994
"Venus Trap" 1996
"Purification" 2002
"Realism" 2006
"Misanthrop" 2014
"Empiricism" 2019
Unter dem Himmel @ Festung Mark
Liebe Leute,

vor einigen Tagen erreichte uns die Nachricht, dass das Mera Luna Festival mit dem Line Up von diesem Jahr in das Jahr 2022 verschoben werden muß. Der neue Termin fällt genau auf das Wochenende, das wir für das ,,Bergfest" & das ,,Unter dem Himmel" in der Festung Mark in Magdeburg vorgesehen haben, nämlich auf den 06. & 07.08.2022.

Da wir uns vorstellen können, dass viele von euch Tickets für das Mera Luna Festival haben, gleichzeitig Das Bergfest & das Unter dem Himmel aus logistischen & organisatorischen Gründen an einem Wochenende stattfinden müssen, haben wir uns schweren Herzens nochmals für eine Verschiebung entschieden.

Der neue Termin in der Festung Mark in Magdeburg ist nun der 13.08.2022. Alle Tickets, auch die für die ursprünglichen Termine im Harzer Bergtheater in Thale, behalten ihre Gültigkeit.

Wir hoffen das ist auch in eurem Sinne hier eine Überschneidung zu vermeiden und freuen uns, wenn wir endlich unsere geplanten Events wie gewohnt durchführen können.

+++ english version below +++

Dear people,

a few days ago we received the news that the Mera Luna Festival with the line up from this year has to be postponed to the year 2022. The new date falls exactly on the weekend that we have planned for the "Bergfest" & "Unter dem Himmel" in the Mark Fortress in Magdeburg, namely on August 6th & 7th, 2022.

Since we can imagine that many of you have tickets for the Mera Luna Festival, and that the Bergfest & Unter den Himmel have to take place at the same time on a weekend for logistical and organizational reasons, we decided, with a heavy heart, to postpone it again.

The new date in the Mark Fortress in Magdeburg is now August 13th, 2022. All tickets, including those for the original dates in the Harz Bergtheater in Thale, remain valid.

We hope this is in your interests to avoid an overlap here and look forward to finally being able to hold our planned events as usual.
16:00 o'clock