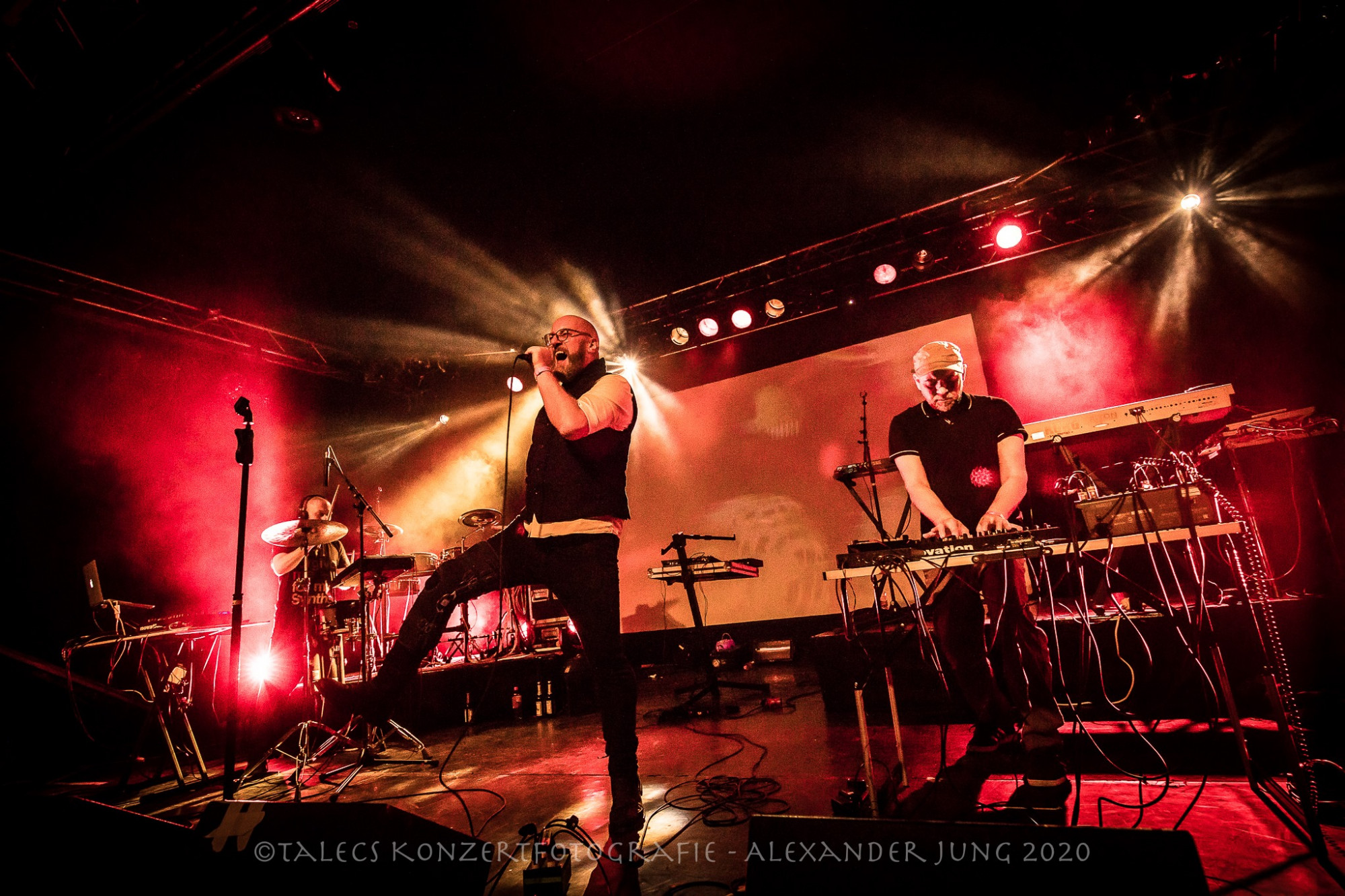 Haujobb
Haujobb is a german electronic musical project whose output has ranged drastically within the electronic music spectrum, from Industrial to EBM to Techno and Breaks. They have become a staple crossover act, bringing several forms of electronic music into the mainstream industrial music world.
They formed in 1993 and started as a 3 piece and soon after, Dejan Samardzic and Daniel Myer continued on their own. Eversince then they released numerous record on different labels.
In 2015 they released their latest album ,,Blendwerk" wich was praised by not only the alternative music press, but also the mainstream press wrote a lot of positive reviews about the release.
They toured in Europe and North America and played several shows in South America.
Live the Duo gets supported by Manuel Richter, Synth and Modular Wizard and owner of Exploding Shed and Leaf Audio

Line up:
Daniel Myer: Vocals, Music
Dejan Samardzic: Music, Synthesizer

Discography:
"Homes & Gardens" 1993
"Drift Wheeler" 1993
"Frames" 1995
"Freeze Frame Reality" 1995
"Solutions For A Small Planet" 1996
"Electronic Live Performance" 1996
"Matrix" 1997
"Ninetynine" 1999
"Ninetynine Remixes" 1999
"Polarity" 2001
"Vertical Theory" 2003
"Vertical Mixes" 2005
"New World March" 2011
"Blendwerk" 2015
"Alive" 2018
Dark Storm Festival @ Stadthalle
Info vom Veranstalter:
"Liebe Dark Storm Freunde,
auch wenn unser Herz blutet, müssen wir Euch nun leider eine traurige Botschaft überbringen. Wir haben bis zuletzt alles versucht, mit einem angepassten Hygienekonzept unser Dark Storm Festival dieses Jahr, trotz des gesetzlichen Verbots von Großveranstaltungen über 1.000 Personen bis Ende 2020, noch irgendwie möglich zu machen. Doch die Hürden der geltenden Hygienevorschriften sind einfach zu groß und verbunden mit enormen Einschränkungen. Alles was das Dark Storm ausmacht, wäre in der Form leider nicht umsetzbar gewesen, sodass wir gezwungen sind, das Festival von diesem Jahr auf den 25.12.2021 in der Stadthalle Chemnitz zu verlegen.
Die bereits gekauften Karten behalten selbstverständlich ihre Gültigkeit und verlieren nicht an Wert. Wir sind derzeit mit allen bisher bestätigten Bands im Gespräch und arbeiten mit Hochdruck daran, Euch demnächst mehr Infos zum Line-Up und zu weiteren Highlights bekanntgeben zu können!
VNV Nation haben bereits jetzt schon Ihre Teilnahme am Dark Storm 2021 bestätigt!

Für alle weiteren News und Updates bitten wir Euch, regelmäßig auf unsere Social Media Kanäle und Homepage zu schauen.
Es tut uns sehr leid und wir hoffen, Euch alle nächstes Jahr zu unserem traditionellen schwarzen Weihnachtsfest wiederzusehen!

Wir danken Euch für Euer Verständnis und Eure Treue!
Bleibt gesund!
Euer In Move Team"

ENGLISH:
"Dear Dark Storm friends, even if our hearts are bleeding, we unfortunately have to bring you a sad message. We have tried everything until the end to somehow make our Dark Storm Festival possible this year with an adapted hygiene concept, despite the legal ban on major events for over 1,000 people by the end of 2020. But the hurdles of the applicable hygiene regulations are simply too great and associated with enormous restrictions. Everything that makes up the Dark Storm would unfortunately not have been feasible in this form, so we are forced to move the festival from this year to December 25th, 2021 in the city hall of Chemnitz. The tickets that have already been purchased naturally remain valid and do not lose their value. We are currently in talks with all the bands that have been confirmed so far and are working flat out to be able to give you more information about the line-up and other highlights soon! VNV Nation have already confirmed their participation in Dark Storm 2021! For all further news and updates, we ask you to regularly check our social media channels and homepage. We are very sorry and we hope to see you all again next year for our traditional Black Christmas! We thank you for your understanding and your loyalty! Stay healthy! Your In Move team"
16:25 o'clock